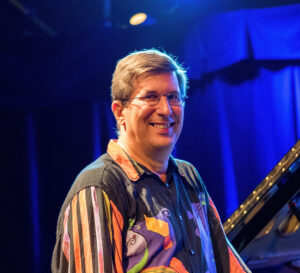 PIANIST: Diplome with Roland Batik (Vienna music conservatory); International projects in the fields of contemporary art music (chamber music), Jazz, Brazilian music, Tango Nuevo and Flamenco.
COMPOSER: (works in the fields of contemporary art music as well as popular music); award winner of several composition competitions. Performances of his works in Europe, Asia, Australia and the USA; radio broadcasts.
ARRANGER, EDITOR, AUTHOR: Publications in various musical fields with several international publishing houses (Austria, Germany, USA, China).
Among them several editions for children (teaching purposes). Additionally, e.g., unpublished edition of the almost entire complete works of Chick Corea (2021at Hal Leonard – Chick Corea Omnibook).
TEACHING ACTIVITIES: Arranging at the Vienna music university (at the Anton Bruckner institute) and lecturer at the Amadeus International School Vienna (till 2020); Since 2020 Music professor at de la Salle Vienna.
Numerous workshops and master classes for piano, improvisation, composition and arranging, songwriting, film music, and jazz harmony (at home and abroad, e.g. at the Konservatorium Wien University, Central Conservatory Beijing, Shanghai Conservatory, China), music computer programs.
MUSIC MANAGER: Publishing manager of many years' standing at Doblinger; panel member in many institutions; organizer of several concerts with the emphasis on "Jazz Chamber Music"; Head of music preparation Hollywood in Vienna, Vienna Music Angels.
Producer of numerous CDs, 2021 foundation of the labels «publig music».